Our Story
In 2011 large parts of Christchurch city were tragically flattened by an earthquake. In just a few seconds, many people's lives were changed forever.

A few years passed, buildings were pulled down, the ground was cleared for a new Christchurch. In 2014, Bink Bowler, our founder, arrived in Christchurch with a vision to build a new series of "coffee shops" for a new city. Like everything in the city, he kept the idea of 'the future' in mind.

Luke Bowler, brother to Bink and Reuben Thorne, Canterbury's son of rugby, got involved and in late 2014 the first Black & White Coffee Cartel began to build. In February 2015 it opened at 83 Victoria St in the City.

The store opened loud and proud, immediately becoming iconic & loved by the people of Christchurch. It was among the first of the notable new cafes to grace Christchurch, kicking off a new café culture for a new city.
Our Offer
Over the first year in the business, the guys prepared to expand via the franchise business model and founded Black & White Systems, the franchise division of Black & White Coffee Cartel alongside Alan and Raphael.

Recognising that the 'old coffee franchises' of New Zealand were tired and boring, the guys developed what would become New Zealand's first micro-roasting coffee franchise, meaning each location would roast coffee on site, in full view of the guests. There was to be no cookie cutter approach, the philosophy is to bring "the funky, independent coffee shop" to the masses. Just like the original, the music would be louder, the service personal, the food individual to the location, the walls brighter, the furniture from different eras and the coffee prepared by creative baristas that are "just like you".

In 2016, the recruitment of franchise partners (Cartel Bosses) started and a few years later Black & White became one of NZ's fastest growing coffee franchises.

The vision of bringing the personality and charm of the independent coffee shop to the masses was going to be hard - it is contradictory. But the guys have pressed ahead delivering what they care and believe in, and their story unfolds as you read this, so pop into your nearest Black & White Coffee Cartel to understand the idea.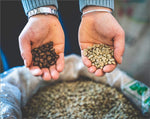 Micro Roasting
We do not operate the traditional New Zealand model where we have a closed off, a centralised roastery that supplies our stores. Instead, we take a hands-on approach. Each full café has an onsite coffee roaster, meaning that the coffee that is brewed in each store, is roasted in that store, in full view of you.

Small batch roasting has many benefits. Our stores have cut a key middleman out, what ends up in the cup is higher quality and of course, the guest experience is truly authentic, from raw to roasted under one roof. What we are doing is not new. The European's have been operating like this for years. We have simply implemented it here bringing a richer experience into our cafes.
The BLend
Our chosen house blend, a medium roast, the Cartel Boss, is made up of two beautiful coffees. Brazil Cerrado & Honduras La Flor. Rather than 'pack' a blend with twelve different coffees, we have simply chosen two beautiful rounded classics, both very different in personality and blended them.

Together the Brazil Cerrado and the Honduras La Flor complement each other beautifully. One is natural, one is washed, this results in a collision of sweet and bitter making for a juicy personality. Brazil holding soft sweet/fruit notes with the famous Brazilian overtone of 'nut' and Honduras holding heavy cocoa notes and acidity to die for, when put in the same cup we, have what we call: " A unique, full and rounded personality suitable for Black & White Coffee".